Over the years, electric skateboards have become very popular. Thanks to its entertaining and powerful upgrades, manual skateboards have evolved into reliable transportation.
With an electronic skateboard, you can ride faster and even save time by sliding through crowded areas. These portable electric rides also feature an advanced braking system that gives riders complete control of their speed, whether uphill, downhill, or flat. Be sure to look out for the best electric skate shops to buy quality skateboards.
More and more competitive electric skateboards emerge in an endless stream. Have enough new skateboards to overwhelm even the most experienced riders. We've compiled a list of the 15 best electric skateboards to help you stay informed in the current market.
For each board, we make statistics according to its specs. With this in mind, we've compiled a list of the top 15 most popular electric skateboards on the market. Their alphabetical order is below.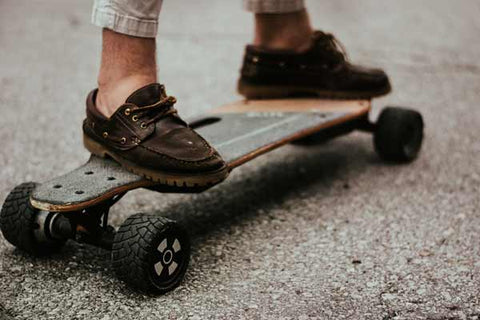 Table of Contents
15 Best Electric Skateboards Reviewed
AEBoard AT2
Backfire Ranger X2

Backfire Zealot S

Evolve Carbon GTR
Evolve Stoke
Exway Flex
KnycXL2.0
Lacroix Nazare
Lycaon TRX 0
Maxfind Max2 Pro
Meepo NLS

OneWheel XR

Propel Endeavor Pro

Yecoo GT3
Yecoo MT
Electric Skateboard Buying Guide
     · Different types of electric skateboards
     · Assistance mode
     · The performance of electric skateboard
     · Electric skateboard maintenance skills

15 Best Electric Skateboards Reviewed
Here's our comparative list of the top 15 electric skateboards. We believe that these are factors of interest. I'm sure you'll make the right decision.
Top Speed: 22.3 mph
Range: 12.4miles
Battery: 36V8.0AH
Motors: 2x 360W Hubs
AEBoard AT2 has different battery options and can go up to 37 mph! It comes with flex-Deck batteries, 6-inch inflatable rubber tires, leakproof, and USB charging ports. AEBoard AT2 is perfect for commuters in all terrains or winter conditions. The AT2 has four driving speeds that can be customized for your next adventure, as well as a variety of battery options for you to choose from.
The AT2 is very similar to the AEboard GT except for its regular truck (no kingpin truck), its less powerful hub motor (two 360-watt engines), its front wheels (which look like regular wheels), and its different battery options. You can choose from a wider variety of batteries. From a 288 watt-hour battery to a 576 watt-hour battery.
The AEBoard AT2 is powered by wireless remote control and is equipped with sine wave drivers and Hall sensors to ensure smooth acceleration and braking at all times. The AT2 is rugged and can hold up to 330 pounds. With a flexible deck and sleek 22.7-pound board, this electric longboard is perfect for seaside promenades and urban environments, regardless of surface. It's a really good board in terms of money, but you can't expect high-end quality and riding experience.
Pros:
Cons:
Top Speed: 22 mph
Range: 15miles
Battery: 50.4V 454Wh
Motors:2x 1200W Hubs
It has an all-black deck and wheels, giving the overall rugged appearance. With dual 1200 watt motors, the weight is relatively light, only 10.8 kg.
The main advantage of being the owner of the Ranger X2 is that it can enjoy a high-quality built-in motor. It can reach a top speed of 22.4 miles per hour, effectively taking you to your destination. For hills, this monster can decompose gradients up to 30%.
The Range X2 has airless rubber tires. The material is combined with the original thickened honeycomb structure to form a hub structure, which absorbs vibration well during the cycle. All of these things make for a more enjoyable experience, no matter what field you're in. In addition, each tire is replaceable.
The Backfire Ranger X2 has an ultra-flexible deck design that provides excellent handling for riders and is equipped with a double-pin truck for better serious carving.
Also, the Backfire Ranger X2 is primarily waterproof. The ESC module and other major components are protected by dust. All of which provides the cyclist with a guarantee of rain or crossing puddles.
Pros:
Cons:
Top Speed: 30 mph
Range: 24 miles
Battery: 50.4V 346Wh
Motors:2 x 875w
The Backfire Zealot has a flexible deck made of bamboo and fiberglass, stable and smooth control for the caliber II truck, and large 96mm wheels (you can easily swap it out for the larger 105mm cloud wheels if you want to). 
While the advantages I mentioned are equal to the other boards in this list, the advantages that give the Backfire Zealot are a larger battery and better range. 
Of course, this will translate to a slightly larger scale. 
For those who want something more, there's the Backfire Zealot S, a $799 upgraded version of the Backfire Zealot that has an upgraded deck, forged truck, bigger battery, more powerful motor, and smart power features. 
The successor to one of the most widely acclaimed boards, the Backfire Zealot, the Zealot S offers a premium, smooth, powerful ride all for under $1000. The Zealot S is a very enjoyable board to ride, the power delivery is smooth and strong and the board still feels very nimble. The deck has a nice amount of flex without being unstable. All in all, it is a very solid and well-rounded board backed by Backfire's excellent customer service. 
Pros:
Smooth throttle/brake curves
Build Quality
Customer Service
Cons:
Real world range is more like 20 miles instead of claimed 24
Motors and ESC get unreasonably hot
Off-the-line acceleration may feel too soft for spirited riders
Top Speed: 22mph
Range: 19miles
Battery: 14AH Samsung 
Motors:Dual 1500W
You can always trust Evolve to bring you the best electric skateboards.
Evolve Carbon GTR has strong bending properties and better surface handling. There is no doubt that it is the ideal choice for electric skateboarders!
Evolve Carbon GTR Off-road Electric Skateboard is a board that is sure to suit you. Twin 1500W high performance brushless external electronic motors with custom 14AH Samsung lithium-ion batteries with standard charging time of 4-5 hours. It can travel up to 19 miles over rough roads. With its superior grip and ultra-smooth ride, the Carbon GTR delivers extreme handling and stability.
For people who like to be in control. Our game-changing deck with inflatable tires is the ultimate fusion of form and function. From scenic trails to shortcuts across vast fields, the Carbon GTR all-terrain will devour any surface you throw at it. Want more adrenaline? The gravel track would become the stage for a rally, and the grassy hill would become a never-ending surf break. This board will change the way you see the world and the path you see in it.
Pros:
Cons:
Weight
The flex is no good for sliding
Top Speed: 22mph
Range: 19miles
Battery: Sony lithium 4.2Ah
Motors:Dual 1500 watt
The Evolve Stoke electric board measures 33.5 inches in length, which is quite long for a skateboard-style electronic board. If this board has anything in common with the Carbon GTR, it is certainly a beast. Evolve is super expensive, but the board doesn't disappoint.
Speaking of speed, it should be said that the Evolve Stoke electric skateboard is powered by a 3000W dual brushless motor. Believe it or not, evolution can reach 22 miles per hour depending on the terrain.
Of course, electric skateboards are powered by batteries, like Evolve Stoke. In this case, the lithium battery has a capacity of 4.2Ah and a range of 10 miles. The system also uses regenerative charging, which improves autonomy and allows you to ride for longer.
As we said, the evolutionary Stock skateboard is on the smaller side. It weighs 17.9 pounds and offers top-notch portability and convenience. You can even take it with you!
Evolve Skateboards, an innovative company, combined four layers of bamboo with two layers of fiberglass when they built the deck for Stoke. Therefore, this high-tech skateboard has good maneuverability.
The Evolve Stoke Electric Skateboard is agile and powerful and is the ultimate engraving machine providing endless entertainment for riders. In addition, the model provides super smooth braking capability, which is music to inexperienced skateboarders.
Pros:
Cons:
Top Speed: 40Km/h
Range:27Km
Weight: 7.7Kg
Hill Climbing: 30% 
The Exway Flex Riot is a well-made board with plenty of features and solid performance numbers. It may not be the fastest on the list, but it has plenty of power for most riders to be pleased and hosts a reliable range. Paired with Exway's customer service, the Flex Riot is an easy board to recommend especially for the price. From our testing we see the Exway Flex Riot as a cheaper Backfire Zealot S alternative with lower performance.
Pros:
Build Quality
Customer Service
Smooth Throttle/Brake Curves
Cons:
Lower top speed than the competitors
Smaller wheel size may lead to a rougher riding experience
Exway's part supply is inconsistent; finding replacement parts in stock is difficult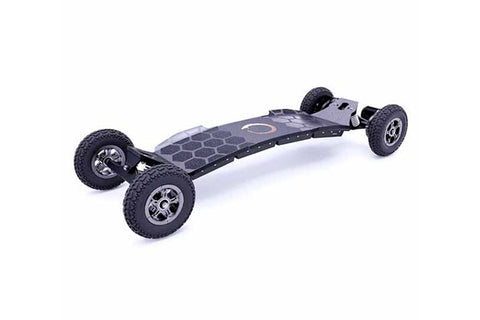 Top Speed:35mph/56km
Range: 23-25 miles
Battery:700 watts/hr 12S-4P 21700 Cells 12S Smart BMS @60A
Motors:6396-190Kv 
Maybe, you know Kaly. That piece of wood is a beast and a work of art. It's bigger and heavier than I'm used to, but damn it, it runs smoothly. Used for polyurethane wheels, a little different, but very comfortable.
Acceleration and processing go hand in hand. In other words, it's very easy to sculpt and doesn't lose this ability at a higher rate. In some ways, Kaly 2.0 might be great, maybe even better than Lacroix. But Kaly's customer service is often offline.
The Kaly XL2.0 runs on a helical gear drive system with a total output of 4585 watts. These gears are louder than the belt that drives the motor. They provide precise acceleration/deceleration, making it easier to change wheels.
The maximum all-terrain speed is 35mph. Unity ESC is used to control the board. The powerful motor is powered by a 700-watt 12S-4P Sanyo battery pack. Battery drops are minimal on all Kaly NYC boards. The maximum range obtained on a single charge is 23-25 miles up to 210 pounds on the circuit board.
The XL2.0 comes with a 16-inch CNC truck and softer springs for better carving and comes with 8-inch inflatable tires.
The deck is completely synthetic, made of carbon fiber, basalt fiber, fiberglass, and a secret flavored epoxy resin, making the skateboards extremely strong and flexible. It has a bathtub progressive concave to streamline the body better and is completely waterproof.
Kaly NYC 2.0 weighs about 18kgs - making it one of the not-so-lightweight electric skateboards.
Pros:
The acceleration is very good
It'sa super fast board
You can control it very well
Cons:
Unportable
Generallypretty stiff 
It's water resistant rather than being water proof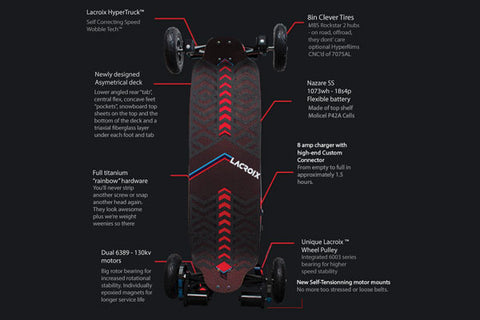 Range: 40miles
Battery: 1073wh - 18s4p (Molicel-INR21700-P42A)
Motors:Belt drive 130kv-6389
Basically, the Lacroix Nazare Supersport electric skateboard is still very popular among them. It actually shares most of its components, which is not a bad thing. However, they have already invented decks, batteries, and housings, and are now making their own flexible carbon fiber. The Lacroix Nazare Supersport have only the following features: they have a new and wider super truck, they have a bigger engine, batteries and greater range. well... High-performance deck like this usually don't have stealth capabilities.
However, that's not what I bought it for. It's a striking thing, and it's clear that this is no ordinary skateboard. This incredible machine is anything but a toy. Lacroix Nazare Supersport brings together the hard-won foundations of all previous models. Performance, rideability, and build quality you can get from any Lacroix board in the Lacroix Nazare Supersport, plus much more.
The Lacroix Nazare Supersport boasts upgraded hardware, incredible range, unbeatable top speed, super comfortable inflatable tires, and an organic feel as you move from a premium Canadian maple deck.
Pros:
Cons: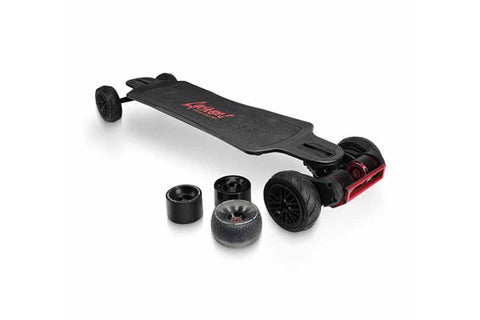 Top Speed: 31mph
Range: 35miles
Battery: 12S4P 44.4V 14Ah 621.6Wh
Motors:950W*2 belt-drives
The Lycaon TRX 2.0 deck is one of the best parts. It's 40 inches long and 10 inches wide, which makes me feel more like a snowboard than a skateboard. The deck is made of sturdy carbon fiber and has a maximum carrying capacity of 440 pounds. This is by far the highest level I have seen. It's belt-driven, using an amateur type of electric tuning, so I can expect that AS the power increases, I'll need smooth acceleration.
The top speed is 31 miles per hour, and I've never reached that speed. I could only ride 10 miles on the W1AS deck, while TRX 2.0 allowed me to ride 30 miles. Carbon fiber decks and CloudWheels are stunning and game-changing. To my surprise, the two-pin truck on the board was very tight and came out of the box.
There are many boards that claim to have data similar to Lycaon TRX 2.0, but they all fall short in some way. Wowgo AT2 wasn't running fast enough, MetroboarddX was making too much money, OwnBoard Carbon/Bamboo didn't look good visually, Evolve was lost due to remote controls and other security issues. The Verreal RS was my second choice. The only reason I didn't choose this board was that it costs a lot of money to buy a top-of-the-line battery. I also want a carbon fiber deck.
Pros:
Cons: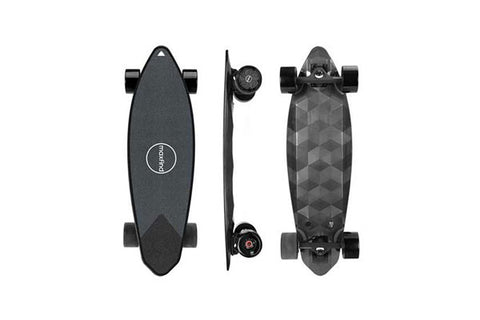 Top Speed:25mph
Range: 15miles  
Battery:4.4AH pack in 10s2p configurations
Motors:600W hub-drive 
It looks like the Maxfind Max2 Pro is designed for college students. The distance and speed are good for students who want to get around campus quickly. Most people in this age group have a limited budget, but they also don't want cheap, flimsy boards. Maxfind Max2 Pro delivers exceptional quality at an affordable price. For this reason, others will like the committee, not just college students. Maxfind recommends that riders be at least 13 years old under the supervision of a minor.
This is a great electric skateboard. It is available in two motor types (single and two-speed) and speeds between 20-24 MPH and 15 MPH. Maxfind has done a lot of work on different architectural details such as deck materials, large wheels and safety features.
The Maxfind Max2 Pro replaces the traditional belt driveline with an M4 hub motor (dual hub motor in dual versions) for a more compact, safer, smoother and quieter system. The single version has a top speed of 20 MPH, while the dual version has a top speed of 24 MPH. Dual hub motors also provide more torque, so if you use a dual hub motor, you can expect a 25% climb rate.
Pros
Plank climbing ability increased from 20% to 25%
Reasonable cost performance
Cons
The motor performance
Minus waterproofing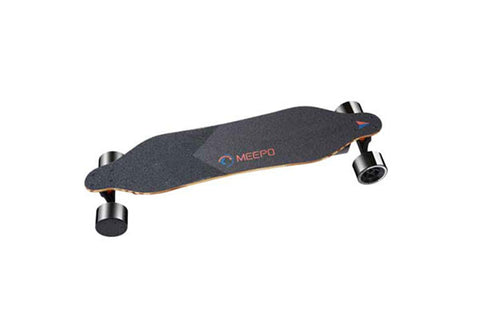 Top Speed:34mph
Range: 20miles
Battery:high-capacity 18650 
The premium fiberglass bamboo deck, designed specifically for electric skateboards, provides skateboarders with more flexibility to reduce impact and allow carving at higher speeds. Meepo NLS PRO offers a new way to get around.
Meepo NLS PRO provides the most reliable battery exchange solution. Quick assembly bolts make battery replacement simple and quick. The whole process can be completed in less than 2 minutes. Wherever you ride, always swap your spare batteries out of your backpack. It's faster and more practical than any quick charge.
With an enhanced direct-drive beast motor, Meepo NLS PRO is free of belt or gear resistance. This is a super friendly skateboard to push and cruise whether the power is on or off.
With the upgraded ESC V3.1, Meepo NLS PRO has added a brake adjustment feature that can be customized for weight and riding style. Still retains the very convenient push-start function. When the board is pushed, it will start automatically, when not in use, it will turn off automatically. Riders don't have to bend over and over again to open and close the board.
The Meepo NLS PRO comes with a battery dial gauge and a 1A USB port to charge your phone and remote control. Knowing that your phone and remote will always be powered up, you can now relax and enjoy the fastest electric skateboard ever.
Pros:
High-speed electric skateboarding
Top speed on 15% slope: 20kmh or 12 mph
Time to reach 30kmh or 19 mph: 5 seconds
Cons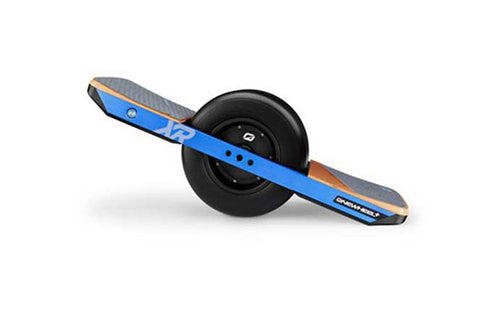 Top Speed:19mph
Range: 23-25 miles
Battery:NMC, 324 Wh
Motors:750W 
The Onewheel XR has a list price of $1799. This is a "premium" consumer layer and you are sure to get what you need in terms of manufacturing quality and customer service.
The single wheel sets your hands free. In my opinion, this board gives you a surfing/skiing feel. It requires more power than an electric skateboard because it's always balanced and your core is more involved in the ride. It needs more leg and thigh strength. It's great on the road and off-road. It's fun to ride the Onewheel XR on some local mountain biking trails and its performance is impressive.
Onewheel claims a range of 12 to 18 miles on a single charge. Again, it depends on how you ride, where you ride, and how much you weigh. If the battery dies, the single wheel won't work. I personally hit 21 MPH on the Onewheel XR, so I can say they're pretty accurate, too.
The brakes on one wheel are controlled by your weight and lean back. They are also very sensitive. On no ship did I go beyond where I wanted to stay. With regard to security, this is a difficult requirement. In fact, there is no remote control on a wheel to let go of your hand, but it requires more balance and finesse.
Pros
Diverse Terrain Capabilities
Build Quality/Customer Service
Fun Factor
Cons
Less stable than conventional boards (potentially more dangerous)
Price
Weight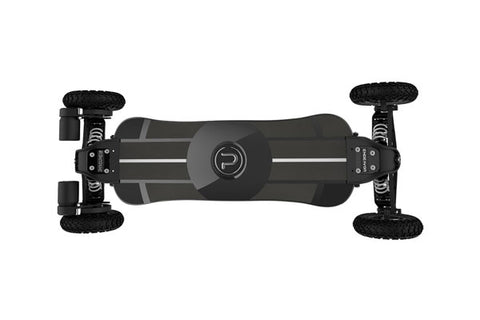 Top Speed:31mph
Range: 31miles  
Battery:Samsung 25Ah/1110Wh, 12S5P
Motors:2x6374 motors/ Each motor has a maximum theoretical output of 3000w 
Endeavor is a perfect crossover board for those who wish to travel off road occasionally but need a smaller ESK8 for their neighborhood or city. Everything that makes it such a capable off road beast simultaneously allows it to be the most comfortable board on the market for neighborhood and city riding. Endeavor is the culmination of years of independent suspension and stability control research and development. It's their most compact system ever.
2 x 6374 motors on a belt drive system, combine with a coil-over shock-supported independent suspension system, providing loads of torque, plenty of speed, and precise agility to conquer any terrain you point it at.The X4S is an AWD beast with advanced technology made specifically for maximum comfort on all terrains and with battery flexibility options in mind. It's like our 4x4 truck. Made to go anywhere.
The Endeavor is closer to a SUV where it features some of the technology from X4S but it was also made to be more portable and better suited to city riding overall. It's still a capable off roader due to its independent suspension setup and power but it is 2WD. It also has a stationary battery setup. You can't go wrong with either but choosing between either is ultimately a matter of prioritization.
Pros:
Cons:
Weight
Lack of Practicality
Complicated Design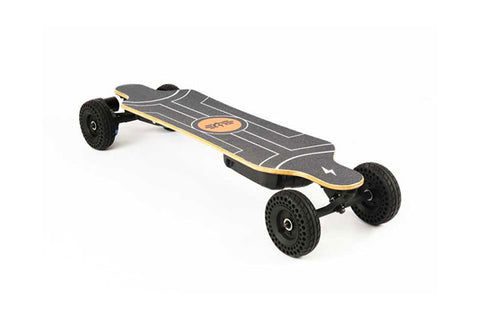 Top Speed:25mph
Range: 22miles  
Battery:10S4P Samsung 8.8AH and Sanyo 14AH options
Motors:2x1000W 
The choice of two wheels for the Yecoo GT3 electric skateboard is 150mm non-inflatable tires or 90mm PU wheels. The carving was effortless and the truck always carried me smoothly and safely back to the center.
The combination of bamboo and fiberglass gives the deck its unique elasticity, creating a perfect intermediate area between elasticity and rigidity. It has enough bounce to absorb bumps and cracks in the ground while remaining stable at higher speeds. Fiberglass is added to increase strength so you don't damage your deck. The concave Angle is perfect for comfort and handling.
The motor on the Yecoo GT3 all-terrain electric skateboard is a dual 1000W Hall belt drive motor driven by custom ESC.
Speaking of remote controls, it has a control button, a thumbwheel, and an LED display. The single button is used to enable or disable the remote control (long press), switch mode (click), and switch direction (double click).
Without a doubt, the Yecoo GT3 is the best electric skateboard on my list.
Pros:
Cons: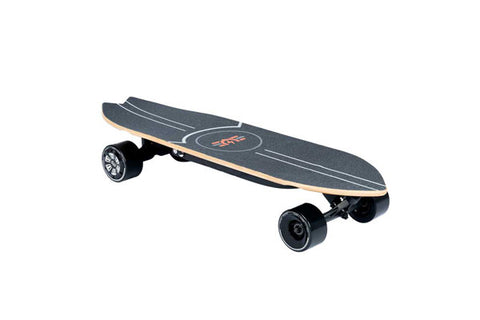 Top Speed:25mph
Range: 15miles
Battery:158.4Wh / 252W 36V
Motors:2 X 540W Ultra-High Power Ultra-High Torque Hub Motors 
Yecoo Board is an innovative company that used 8 layers of maple for the bridge deck of Yecoo MT board. Therefore, this high-tech skateboard has good maneuverability. As we said, yecoo MT electric skateboards are on the smaller side. It weighs 17.6 pounds and offers top-notch portability and convenience.
The Yecoo MT Min electric skateboard is 33.5 inches long. Yecoo is super cheap, but the circuit boards don't disappoint. It is a comfortable and powerful skateboard. Your feet enter the space perfectly, allowing you to easily control the movement of the board.
Speaking of speed, it should be said that the Yecoo MT Mini electric skateboard is powered by a 540W dual brushless hub motor. Believe it or not, Yecoo can reach 25 miles per hour, depending on the terrain.
Of course, the electric skateboard runs on battery power, as does the Yecoo MT. In this case, the Sanyo lithium battery has a capacity of 7Ah and a range of 15 miles. The system also uses regenerative charging, which improves autonomy and allows you to ride for longer.
The $499 Yecoo MT electric skateboard is affordable for every skateboarder. That's great for commuters. Certainly, in my opinion, the dual 540W motor power is sufficient for commuting. But let's be clear, not everyone is happy about this.
Pros:
Cons:
The Best Electric Skateboards Buying Guide
There are several key factors that are important before deciding which electric skateboard to buy. Here we've rounded up some factors to consider.
Different types of electric skateboards
Single wheel electric skateboard
The electric single wheel is a single-wheel skateboard, a self-balanced electric skateboard. These wheels are quite new to the market but have become increasingly popular due to their unique design. The e-onewheel is developed with an efficient motor that rotates to drive the rider forward or backward and performs thousands of fine-tweaks per second to maintain rider balance.
All-terrain electric skateboard 
Designed exclusively for all of the terrain. These GTR off-road electric skateboards are equipped with all-terrain wheel options. It is a multi-purpose skateboard designed to cope with any surface and travel on inaccessible roads.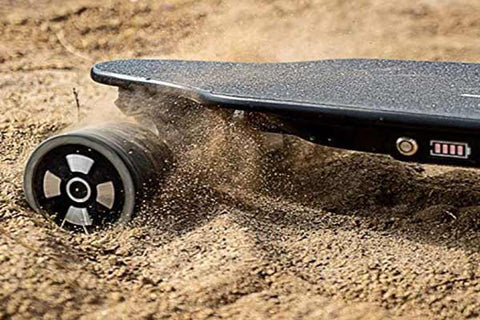 Cruiser / street Electric skateboard
Cruiser electric boards are one of the most popular electronic boards. This type of skateboard is highly recommended for those who want to experience the pleasure and thrill of easy street surfing.  Eboard street surfing is also the perfect choice for everyday use, making the commute fun. It is an ideal combination of speed and agility. 
Assistance mode
Electric skateboards offer different types of riding style patterns, depending on the type and brand of the board.
ECO mode: Use this setting for secure maximum speed and easy control. This model is perfect for beginners and riders who want to ride easily and ride the longest.
PRO Mode: A perfect setting for people who want to browse quickly through past traffic and turn their daily commuter trip into your daily adrenaline rush.
GTR model: This is another step forward in the PRO model. Switch to the GTR settings to experience incredible acceleration and power. This mode allows you to climb hills of up to 25% slope.
CUST Mode: This enables you to customize your ride to best suit your ride style. With this mode, you can adapt to cruise, super-fast, or between.
The performance of electric skateboard
Battery range and charging
Battery power and range are key to traveling long distances without recharging. Think about how you plan to use the electronic whiteboard. Longer rides in high power will require more battery power. Most electric skateboards use battery packs.
There are many different types of batteries used in electronic boards, of which lithium batteries are the most popular because of their high number of charge cycles, lightweight, and high power.
Maximum power depends on the model -- it ranges from 250 watts to over 3,000 watts (although it should be noted that most states have a speed limit of 25 km/h for public use). In terms of range, the entry-level model will be able to take you around 19km, while the more powerful adventure model can reach 32km.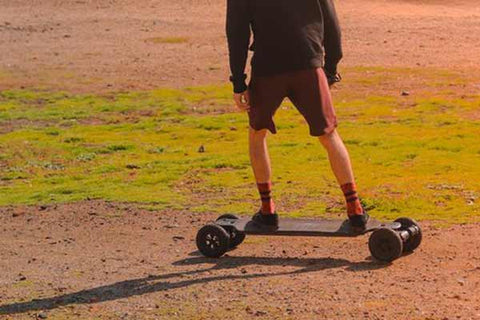 Weight and portability
Electric electronic boards come in a variety of weights, and some are designed to be more portable and lighter for ease of travel and convenience.
The weight of the electric longboard depends on the riding style you are looking for. The lightest electric skateboards weigh about 7kg and are usually street scooters designed to be flexible and easy to operate. The heavier boards were developed for rougher surfaces and can weigh up to 11 kg. All boards are fairly light, compact, and easy to transport.
Electric skateboard wheels and tires
There are two main types of e-board tires - inflatable (pneumatic) and airless (polyurethane). Pneumatic tires generally provide higher quality, smoother ride, and overall better performance on all kinds of roads and off-road. Airless tires, meanwhile, are more common on entry-level, budget-friendly electric skateboards and are generally lighter and more portable than inflatable tires.
Electronic board rules and regulations
Rules and laws regarding electronic skateboarding in Australia remain a grey area. But as a skateboard, the legal limit in Australia is 25km/h. If your device is outside this range, you are driving a road vehicle. This means that you are seen as riding parallel to mopeds or motorbikes and must comply with the legal bus road requirements set for each state and territory while traveling.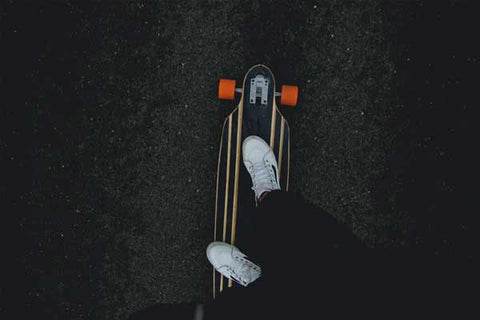 Electronic board cost
Electronic boards come at a variety of price points, depending on what you want from the device. Below is a list of what you can expect from e-boards at each price level, whether you're just looking for cheap or more powerful e-boards.
* Below 1 k
This price is recommended for beginners. At that price, you can expect a lightweight circuit board with a range of about 15km and a motor power of about 200 watts. It usually comes with a simple speed mode of high speed and low speed, with a top speed of around 20-25 km/h. Charging time may also be longer than pricier options.
* 1K-2K
In this price range, you can expect high-quality electronic boards. The electronic board can travel 35 kilometers in a single trip at more than 25 kilometers per hour. At this price point, the device will be equipped with more modes and you'll see some boards capable of handling uphill.
* 2K-3K
Most high-performance boards are in this price range. At this level, you'll see that these boards are designed for more adventurous riding and come with a range of different modes - including the GTR off-road setup. These devices were developed for greater speed and a full range of terrain. It will have higher capacity batteries, greater range, and advanced quality components.
Electric skateboard maintenance skills
Maintenance is important to ensure that your electric skateboard is running smoothly and remains in good condition for as long as possible. The required maintenance is not very difficult, but regular inspections, storage practices, and general services should be performed to make the most of your best electronic board.
* For models with pneumatic tires, check the air pressure regularly.
* Charge the battery up to 100% after each ride.
* Store your electric skateboard in a dry, safe area to avoid direct sunlight.
* Clean the bearings once a month or make a full replacement every 3 months.
* For the belt and drive gear, check for abnormal wear — Turn the wheel after each ride to see for any jam between the belt and the gear/cover.
If you have questions about the electronic components, please contact the skateboard shop or the skateboard manufacturer. Any own maintenance of electrical problems is not recommended.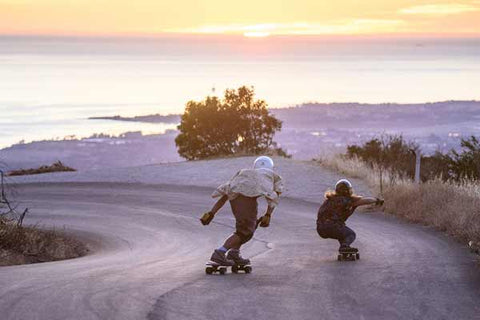 Conclusion
With so many great skateboards appearing on the market, it can be really difficult to decide which electronic board to choose. So we've prepared the ultimate buying guide for you. It includes all the information you need to know to find the best electric skateboard for your needs.
We hope the information provided will help you make a more educational electric skateboard purchase!